FAO North America
We are proud to co-organize this year's World Forum on Urban Forests
From 16–19 October in Washington, D.C. the Forum will elevate critical conversations around environmental justice and the powerful role urban forests play in building inclusive and accessible cities under the theme, "Greener, Happier, and Healthier Cities for All.»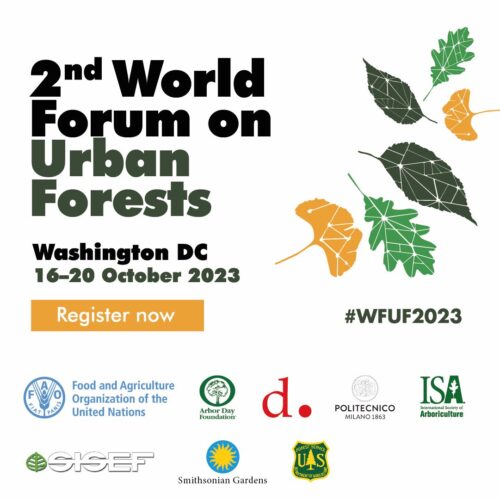 https://www.worldforumonurbanforests.org/
Each day, the Forum will dive into topics related to this overall theme.
*Monday, 16 October – Healthy Cities
Tuesday, 17 October – Inclusive Cities
Wednesday, 18 October – Resilient Cities
Thursday, 19 October – Affiliated events and field trips
Friday, 20 October – Cities Forum and Tree Cities of the World Day
Explore the lineup of keynote speakers, sessions, and events.
Register today to secure your spot. https://www.worldforumonurbanforests.org/wfuf-2023/the-forum/registration.html
If you'll be traveling, don't forget to book lodging. Space is limited so reserve your room early.
*Don't miss the networking reception on Monday, 16 October at the Smithsonian American Art Museum in the Kogod Courtyard. This event is free and open to all Forum attendees.