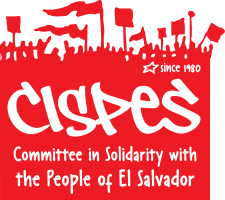 El Salvador is living through a very dangerous moment in history. In less than three months, the size of the Salvadoran prison population has doubled, with over 37,000 people having been arrested without warrants after constitutional rights were suspended in March. Read on for more analysis, including urgent news about members of social movement groups who have been targeted.
In the midst of this terrifying time, our allies also saw a victory. Due to the tireless organizing of the Committee of Family Members of Political Prisoners (COFAPPES), two high-profile women from the leftist FMLN party who had been held in prison without charges for nearly a year were recently moved to house arrest.
Though this is only the first step in the ongoing struggle for their freedom, we want to take a moment to celebrate this important victory and to thank all of you who signed petitions, tweeted at the Attorney General to call for their release or called on the U.S. Embassy to speak out!
We're also advancing in our plans to challenge U.S.-backed militarization and economic exploitation in Central America.
•  Read on for good news: progressive Members of Congress are echoing the demands of the solidarity movement regarding withholding U.S. military aid.
•  If you missed our reportback from our recent delegation which brought Members of Congress to Central America to understand how U.S. policy contributes to displacement and migration, you can check out the recording here.
•  Last week, we joined thousands of organizers, artists and popular movement leaders in Los Angeles for the People's Summit, an alternative to the U.S.-dominated Summit of the Americas. Check out our photos on Facebook and Instagram!
Thank you for being part of this movement!
Alexis Stoumbelis, Executive Director