On August 28, at the behest of Attorney General Consuelo Porras and on the order of Judge Jimi Bremer,  police arrested attorney Claudia González, after conducting a 6:00 AM raid on her home. Police also raided the home of former head of the Special Prosecutor's Office (FECI), Juan Francisco Sandoval, where his elderly parents live, and the home of Siomara Sosa, bringing arrest warrants for each.
Claudia González is currently defending prisoner of conscience Virginia Laparra, who was arrested last year in apparent retaliation for her efforts to fight corruption as head of the Special Prosecutor's Office in Quetzaltenango. González is also the attorney for Juan Francisco Sandoval, Eva Siomara Sosa, Leily Santizo, and other former prosecutors with FECI and with the International Commission Against Impunity in Guatemala (CICIG), a the UN-backed anti-impunity initiative forced to close in 2019 after years of prosecuting successful, high-level cases of corruption. González herself was a leading attorney with CICIG. González, like Sosa and Sandoval, is charged in today's arrest warrant with "abuse of authority," reportedly in connection with the case of Blanca Stalling, a Supreme Court judge prosecuted for pressuring a judge in a case involving Stalling's son. After CICIG was forced out of Guatemala, Stalling in 2022 was reinstated as a judge and the charges against her were dropped.
Her arrest, González told reporters, was unnecessary, since she was regularly in the courthouse and would have willingly presented herself to face charges. She said her arrest was an effort to harass and intimidate her and characterized the charges as completely false. Guatemalan analysts have pointed out that only public officials can be charged with abuse of authority, and González is not a public official. González said her arrest was "strategic" because she is defending prosecutors and former prosecutors and her arrest hinders their defense.  During the raid, Public Ministry officials reportedly took González' computer, her cell phone, and a USB drive, which, according to González, was not an action specified in the arrest warrant.
Judge Jimi Bremer has sent González to Mariscal Zavala prison, where she will be detained until at least September 6, when she is scheduled to make her initial appearance in court. She is at risk of being detained until her trial date.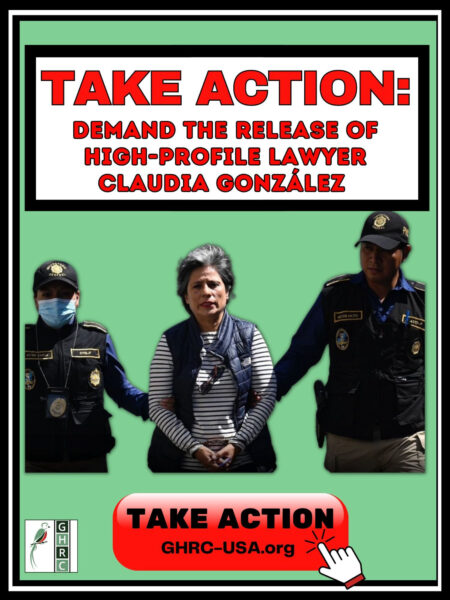 ACTION
Contact the Guatemalan Embassy.
Call for the immediate release of Claudia González.

While she remains in custody, demand that her rights be respected and her safety guaranteed.

Demand an end to the harassment of anti-corruption prosecutors and former prosecutors and their families.A sample letter and additional context are provided below.
Additional ContextSince Bernardo Arevalo's August 20 victory at the polls, Guatemalan Attorney General Consuelo Porras has undertaken a number of repressive actions with the apparent aim of preserving her power and preventing a Semilla presidency. The raids and arrest on August 28 can be seen in that light. According to the Guatemalan organization JusticiaYa, the arrest warrants and raids stem from a complaint filed by Supreme Court Justice Blanca Stalling. By acting on that complaint, Attorney General Porras, who has lost much support elsewhere, may be attempting to strengthen her relationship with the Supreme Court. The Supreme Court has played a role in various election-related issues and may continue to play a role in the eventual transition of power.Harassment of Juan Francisco Sandoval:Among the actions Porras took last week was the filing of request for injunction with the Constitutional Court to silence persons who have tweeted that she should resign. Included among the seven named in that request for an injunction was Juan Francisco Sandoval. Sandoval is in exile after being threatened with arrest in 2021 on spurious charges. President-elect Arevalo has said he would bring prosecutors in exile, including Juan Francisco Sandoval, back to Guatemala to work as part of an anti-corruption team.International Community's Response:Within hours of González's arrest, United Nations Rapporteur for Human Rights Defenders Mary Lawlor, UN Secretary General Antonio Guterres, the Organization of American States Secretary General Luis Almagro, and the US State Department expressed concern about the raids and arrest, which Almagro also condemned.