Photo: Maryland International Agriculture & Environment Conference
After months of hard work, The Salvadoran American Chamber of Commerce of the Washington, DC, Metropolitan Area (SACOC) is thrilled to announce that their next mission trip to El Salvador is finally coming together!
«We are filled with excitement as we anticipate the incredible relationships we will build and the countless business opportunities that will arise from this journey,» they said.
According to the organizers one of the primary objectives of this trip is to establish a strong partnership between Maryland and El Salvador in preparation for the highly anticipated 2023 Maryland International Agricultural and Environment conference.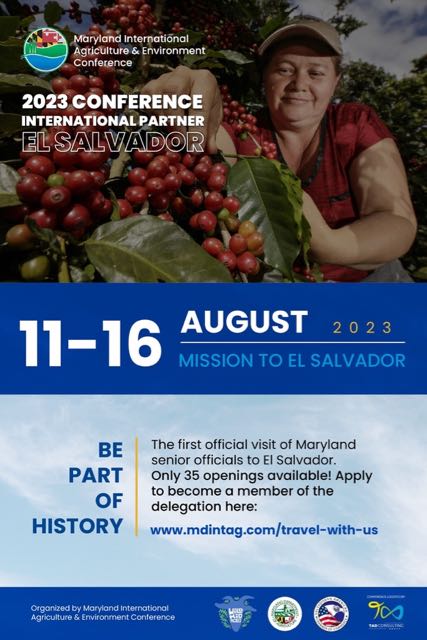 The prestigious event, scheduled for October 13th, 2023, will take place at the Smithsonian Environmental Research Center.
«We are honored to be a part of this conference and to contribute to our community's growth and development. We cordially invite you to join us on this extraordinary trip and be a part of this special conference,» they added.
To learn more about the details and secure your spot, please click the link below.
«Hurry, as we only have a few spots left for this unforgettable experience,» the organizers pointed out.
https://www.mdintag.com/store/p/mission-to-el-salvador
-Conference International Partner El Salvador.
-The Global Food Shortage: A Crisis in the Making