Pupusa Day Celebration on November 12th
El Salvador's national holiday, National Pupusa Day, is November 12th, and El Tamarindo, DC's home for National Pupusa Day, plans to make this year's celebrations the most exciting and impactful yet—it will be a huge celebration of Salvadoran food and culture, and a chance for DC to celebrate one of its most important expatriate communities—they're calling it Pupusas for the People.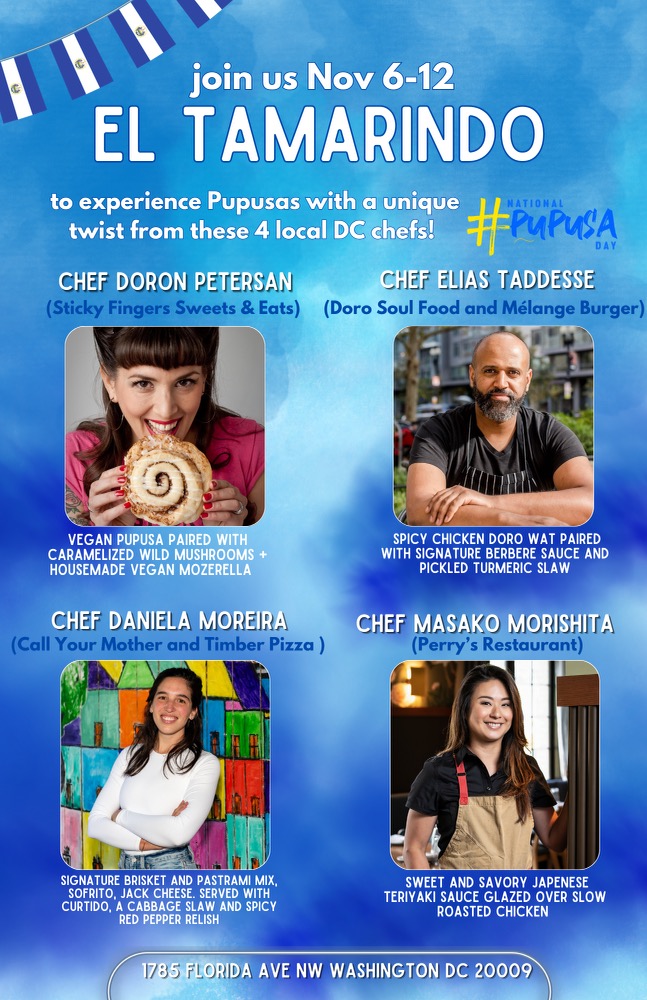 DC has one of the biggest Salvadoran communities outside of El Salvador, and El Tamarindo (owned and run for 41 years by the Reyes family) is the spot that first brought Salvadoran food to DC. It has long been a home—and kitchen–away from home for Salvadorans, as well as a beloved spot for late-night pupusas, tacos, and more for 20-somethings in DC.
This year El Tamarindo will bring the community together on National Pupusa Day through live music, food demos, dance performances, and more. They've also teamed up with 4 local chefs to put their unique spins on traditional pupusas and will be serving them up during Pupusa Week, with a portion of sales donated to La Clinica del Pueblo. The day promises to be packed with fun, but even more importantly, it tells the story of how a DC institution, El Tamarindo, continues to unite people of all cultures through the humble and beloved pupusa.
More details about Pupusa Week and National Pupusa Day
El Tamarindo in Adams Morgan is the family-owned and woman-run spot that first brought El Salvador's National holiday, National Pupusa Day, to DC in 2016.
Every year they have a huge Pupusa Day Celebration—this year it is going to be bigger and better than ever—in fact, the festivities will last all week! (PupusaWeek: November 6 – 12).
The big celebration, Pupusas for the People, is on Sunday, November 12th at El Tamarindo from 10 AM – 11 PM (outdoor festivities from 10 – 5) with:
All-you-can-eat pupusa passes for $25–and the option to add all-you-can-drink cocktails for $20
Pupusas cooked on the griddle all day on their outdoor tented patio
Cultural performances
Interactive Latin dance performances
Salvadoran artisan market
Chef collaborations
DJ Danny from El Zol 107.9
Salvadoran rum tasting with woman-owned Cihuatan Rum
Kids Activities and Wellness Activities with Hope Center for Wellness
Meet and greet with El Salvador's famed author and social media personality, Diego Argueta of Guanaco to English
Winter clothing collection for newly arrived immigrants: please bring new or gently used items only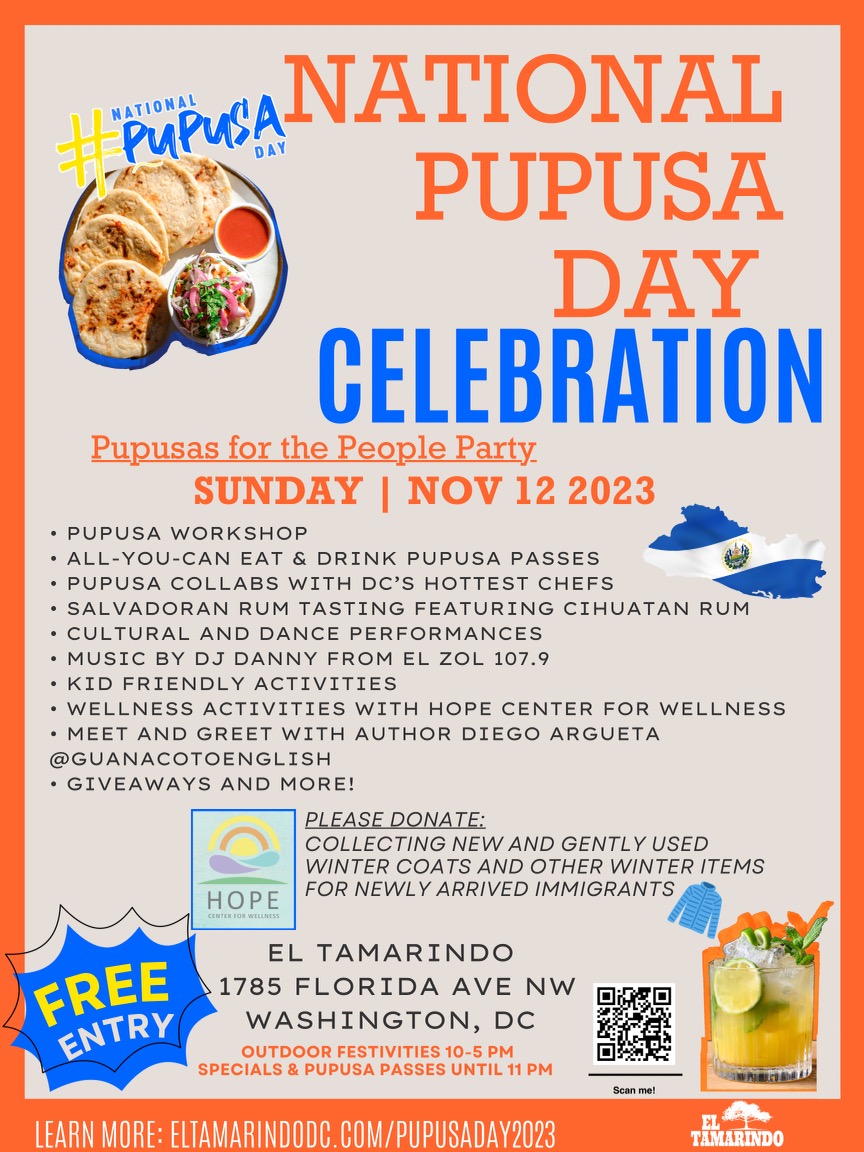 Also, during Pupusa Week, from November 6 to 12th, and on National Pupusa Day, El Tamarindo will offer specialty pupusas created by some of DC's hottest chefs:
Chef Masako Morishita, Executive Chef, Perry's, teriyaki chicken pupusa with Japanese mayo;
Chef Elias Taddesse, owner and Executive Chef, Doro Soul Food and Mélange Burger, chicken doro wat pupusa with berbere sauce and turmeric slaw;
Chef Daniela Moriera, Call Your Mother and Timber Pizza, brisket and pastrami pupusa with sofrito, served with spicy red pepper relish;
Chef Doron Petersan, Executive Chef and owner, of Sticky Fingers Sweets & Eats, mushroom and smoked mozzarella vegan pupusa.
El Tamarindo will also be offering specialty cocktails made with Salvadoran woman-owned Cihuatan rum, and a portion of the sales from the cocktails and the chef collaboration specialty pupusas will be donated to La Clinica del Pueblo, which addresses the health needs of DC's Latinx immigrant community.
El Tamarindo, DC's home of Pupusas for the People 
The popular family-owned and operated spot in Adams Morgan (1785 Florida Ave. NW), El Tamarindo, first introduced DC residents to pupusas and other Salvadoran specialties, 41 years ago! The thriving bar and restaurant, which serves Salvadoran and Mexican favorites, has won numerous awards and been named to many best-of lists and is a pillar of DC's large and influential Salvadoran expatriate community. The restaurant is now primarily run by founders Jose and Betty Reyes' daughters, Ana Reyes and Evelyn Andrade, who have kept traditional favorites, while refreshing the menu, even adding a popular vegan menu!
History of National Pupusa Day: Created in 2005, National Pupusa Day is a Salvadoran holiday celebrated on the second Sunday of November (November 12th, 2023).  El Tamarindo brought the celebration to Washington, DC, in 2016.
What is a pupusa: El Salvador's national dish dating back over 2,000 years to the pre-Columbian era, pupusas are thick handmade corn cakes stuffed with cheeses, meats, and/or vegetables (even Central American loroco flowers!), cooked fresh to order on a hot griddle, and topped with tangy slaw and a thin tomato salsa. They are naturally gluten-free.