Rep. Nicole Malliotakis. Photo: Politico.com
STATEN ISLAND, NY — Just today, the House of Representatives voted on the American Dream and Promise Act, which would allow more than 2.3 million "Dreamers" or undocumented immigrants who came to the U.S. as minors.
According to the NYC Office of Immigrant Affairs, over 150,000 NYC Dreamers stand to benefit from the proposed legislation. Republican Congresswoman Nicole Malliotakis, who represents District 11 covering Staten Island and portions of Brooklyn, voted against the legislation.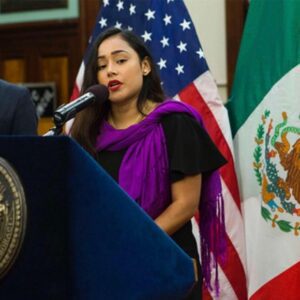 Yesenia Mata, executive director of La Colmena Staten Island Immigrant Rights Center, issued the following statement:
"By voting against the DREAM Act, Congresswoman Malliotakis betrayed Latinos and essential workers. Dreamers have been on the front lines as essential workers keeping our city running during one of the most difficult times in our nation. Dreamers worked as nurses, doctors, food delivery workers, transportation and beyond. She also turned her back on agricultural workers who are literally growing our food. The least our nation can do to thank these essential workers is giving them an opportunity to become citizens and pursue the American Dream. It is becoming clearer that Nicole Malliotakis doesn't represent the values of Staten Island. We will not forget her vote against our Dreamers and essential workers."