Photo courtesy of LCDP
Dear readers:
Claudia was still in utero when her mom escaped from an abusive relationship. A recent immigrant from El Salvador, Claudia's mom was unemployed, homeless, spoke little to no English and was solely responsible for herself, her one-year-old son, and her unborn daughter.
Through La Clínica del Pueblo, Claudia's family received high-quality prenatal and pediatric care and the support to access housing at a domestic violence shelter. Claudia's mom got a job cleaning at La Clínica's offices, which enabled their family to move into an apartment and start putting down roots in the U.S.
Today, Claudia Guevara is the Health Center Manager at our Hyattsville, Maryland location, where she oversees the medical care of thousands of underserved Latinx community members facing challenges similar to those encountered by her own family.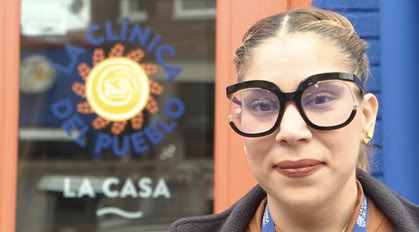 For 40 years, La Clínica has been working with and through the local Latinx community to identify needs, break down barriers, and find culturally and linguistically appropriate solutions to their unique challenges. We empower our clients to give back to their communities, and, most of all, they empower us.

Community members like Claudia, who once received care from La Clínica, make up the majority of our workforce. The next generation of Claudias is already waiting in the pipeline, but we need your help to fuel their growth as leaders. We can't sustain these critical services without contributions from individual donors like you. Together, we've made significant strides in our fight to make healthcare a human right, but there's a lot more work to be done.

Dear readers, the DMV's next generation of Latinx changemakers needs your help today.

We are the solution. Let's act now to create the change we know must happen.

Catalina Sol
Executive Director