Every year, all members of the Party for Socialism and Liberation participate in a National Fund Drive. Like a union or many other types of working-class organizations, we know the only way to be politically independent of the capitalist class is to be financially independent from it, so we are appealing to our friends and supporters to contribute to this fund.
All across the country, the PSL has been organizing to support UPS Teamsters in their historic and successful struggle for a fair contract — attending practice pickets, conducting interviews, producing media, hosting forums and more. For months, our members mobilized across the country to stand shoulder-to-shoulder with UPS Teamsters in their fight for dignity and respect.
Through their unity and readiness to strike, the Teamsters have won their core demands, which will cost UPS an estimated $30 billion in new money. This is a huge victory for UPS workers and for the entire working class as it sets a new standard in the logistics industry and beyond and will propel new organizing campaigns at nonunion companies.
The PSL will remain immersed in labor struggles big and small, across the country, as workers continue to organize for higher wages, better working conditions, and more!
Help us continue and expand this work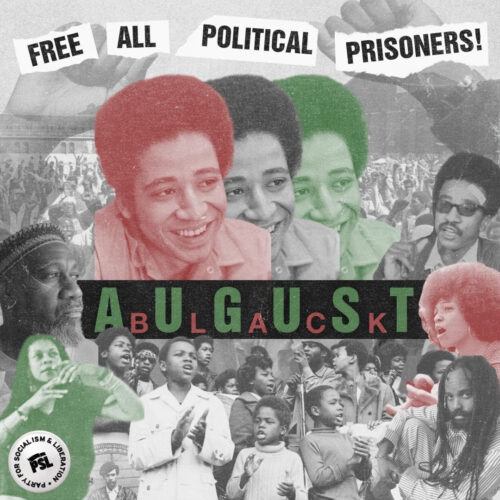 Another key focus for PSL members nationwide has been commemorations of Black August. Black August is observed every year to honor the freedom fighters of the Black liberation movement, to call for the release of political prisoners in the United States, to condemn the oppressive conditions of U.S. prisons, and to emphasize the central importance of the Black liberation struggle. Observers of Black August commit to higher levels of discipline throughout the month. This can include fasting from food and drink, frequent physical exercise and political study, and engagement in political struggle. In short, the principles of Black August are: "study, fast, train, fight."
All across the country, PSL organizers are honoring the legacy of Black revolutionaries and marking Black August in many ways – from organizing public study groups, to hosting film screenings and forums, to initiating letter-writing campaigns for political prisoners, and more. These events are crucial to building the ongoing struggle for Black liberation in the United States.
Initiatives like these require immense resources. Through our members' dedication of their time, finances, collective work, and sacrifice, the PSL has helped build and sustain movements against oppression and for liberation. We ask for your donation to give us the financial resources to continue to push the struggle forward.