La congresista Eleanor Holmes Norton en conferencia de prensa este lunes. Foto: Lenin Nolly/MLNews
Redacción MLNews
Un reporte que demuestra los Estados de EE.UU. donde ocurren más accidentes fatales de camiones (trailers) fue presentado este lunes por la Coalición de Seguridad en los Camiones.
El anuncio de la Coalición, cuyo tema fue "Reporte de los más Mortíferos Choques de Camiones", fue presentado afuera de la parte sur del Capitolio de Estados Unidos en Washington, D.C., donde se hizo presente la congresista Eleanor Holmes Norton y voceros de otras organizaciones que velan por la seguridad de los conductores y otras personas en las carreteras.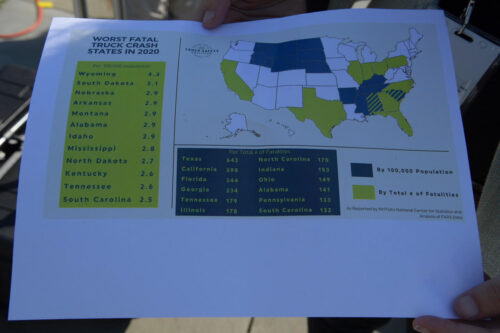 Un Memorial por las Personas Esclavizadas en Washington, D.C..
La congresista Eleanor Holmes Norton (representante demócrata del Distrito de Columbia en el Congreso de Estados Unidos) también anunció este lunes que una iniciativa de ley que establecerá un Memorial para Personas las Esclavizadas en propiedad federal, será sometido a votación este mismo lunes 19 de septiembre en el Senado de Estados Unidos.
El Memorial, que será establecido por la organización The Georgetown African American Hitoric Landamrk Project and Tour, honrará la presencia de personas esclavizadas, celebrará sus contribuciones a la historia y reconocerá su resiliencia y fortaleza.
El senador Cory Booker (demócrata del Estado de Nueva York) fue la persona encargada de someter al pleno del Senado la pieza de legislación.
"El memorial que mi iniciativa autoriza existirá como un poderoso hacedor que dice la verdad y remembranza, y estoy orgullosa de haber trabajado para llevarlo a votación", dijo la congresista Holmes Norton, quien solo tiene voz pero no vota en el Congreso porque Washington, D.C. no es un Estado de la Nación.
"Gracias al senador Cory Cooker por introducir la iniciativa al Senado. Permítanos honrar la personalidad de estos individuos, quienes repetidamente asumieron no tener a nadie, así que con esto ellos nunca serán olvidados ", apuntó Holmes Norton.