Photo: courtesy of Democracy Now!
The city of Minneapolis on Friday reached a record $27 million civil settlement with the family of George Floyd. This is civil rights attorney Ben Crump, who represents Floyd's family.
Benjamin Crump: "In this historic agreement, the largest pretrial settlement in a police civil rights wrongful death case in U.S. history makes a statement that George Floyd deserved better than what we witnessed on May 25th, 2020, that George Floyd's life matters, and, by extension, Black lives matter. It sends a message that the unjust taking Black life will no longer be written off as trivial, unimportant or unworthy of consequences."
This comes as the criminal trial for former officer Derek Chauvin, who killed Floyd by kneeling on his neck for over nine minutes, continues. Seven jurors have now been selected.
Protesters Demand Police Accountability on Anniversary of Breonna Taylor's Killing
Protests and gatherings were held in Louisville, Kentucky, and other cities across the country Saturday, marking one year since plainclothes police officers busted through the door of Breonna Taylor's home in the middle of the night and shot her dead. Breonna Taylor was a Black, 26-year-old emergency medical technician and aspiring nurse. This is Keturah Herron of the ACLU of Kentucky.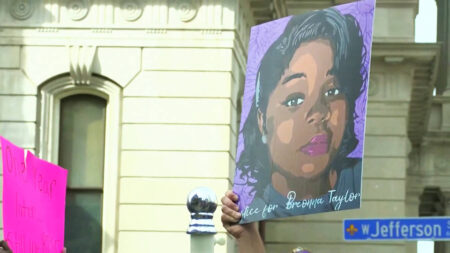 Keturah Herron: "No one has been charged. No one has been prosecuted or convicted for her murder. And it's important for people to remember that and that we have to continue to fight and we can't stop. We have to keep going, and we cannot rest. Breonna was not able to rest, so we should not be able to rest until people are held accountable for the murder."
On Friday, Breonna Taylor's boyfriend Kenneth Walker filed a federal lawsuit against the Louisville Police Department for violations of his constitutional rights. Walker, who was in the apartment with Taylor when she was killed, was cleared just last week of charges for allegedly shooting and wounding a police officer during the deadly raid.