In memory of the dead. Foto: GHRC/USA
Editorial Staff/MLNews
Since 38 years ago that Sister Alice Zachmann started the Guatemala Human Rights Commission, the organization have been working to act when human rights in Guatemala are under attack.
"I know it's probably been a hard year for you, like for so many people, which is why I'm especially grateful for your support. We know we can always count on our network to act when human rights in Guatemala are under attack. Thank you for all that you do", said Pat Davis, Board President Guatemala Human Rights Commission/USA
All the work they do in the Central American country depend on the support they receive every year.
"As founder and former director of GHRC/USA, and now a member of the Advisory Board, it gives me great pleasure to let you know about GHRC's ongoing work and to thank you for your support", said Sister Zachmann.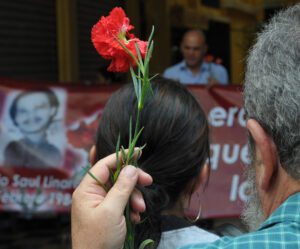 "I've always said that my goal was to have the Commission be unnecessary. Guatemala would reach a point where the human rights of all were respected. Sadly, the human rights situation has not improved. The Guatemalan government in the past year has cracked down on protesters, dismantled institutions set up to implement the Peace Accords, and pushed back against human rights monitoring bodies in a variety of ways", she added.
Sister Zachmann explained that COVID-19, which has claimed the lives of at least 4,335 people in Guatemala, has increased food insecurity and complicated human rights monitoring efforts, leaving human rights defenders more vulnerable. The two hurricanes that hit Guatemala in November multiplied the hardship many rural communities already faced GHRC has risen to the challenge.
"In Guatemala, where our office is led by Mayan lawyer Isabel Solis, GHRC accompanies human rights defenders facing threats and violence. Responding to emergency situations, Isabel coordinates with other organizations to offer defenders urgent support, relocate at-risk defenders, denounce threats and attacks, cover emergency medical expenses, purchase food and supplies, and support the families of activists unjustly imprisoned for their defense of human rights. GHRC's Human Rights Defenders Fund covers many of these important emergency assistance costs", she continued.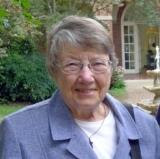 They have much work to do, since in 2020, of the 15 defenders murdered, 28 percent were women, a shocking increase. In 2021, GHRC will highlight the particular risks faced by women human rights defenders and work to create and broaden networks that protect them.
They will also begin documenting the effects of US immigration policies on Guatemalan children, aiming to ensure that the most pernicious practices and policies of the last four years are effectively reversed.
They know officials in the new administration, as well as members of Congress, will need a basis on which to make decisions. Their 38 years of documenting and reporting on human rights in Guatemala, together with their staff on the ground, will position well for their work.
"My vision remains the same as ever: a Guatemala with no need of an NGO in Washington reporting on abuses there and pushing for positive change. That day may come but only if we continue our work.  Join us in supporting the people of Guatemala and the brave defenders struggling for the human rights of all. Please donate whatever you can; please become a part of our efforts", Sister Zachmann pointed out.