WASHINGTON, September 13, 2023- The Congressional Caucus on Peru announced Representatives Robert Garcia and Carlos Gimenez as its new co-chairs, who will step in following departing co-chairs Representatives Chris Stewart and Gregory Meeks, who have been leading the Congressional Caucus on Peru since its launch in 2016.
The Congressional Caucus on Peru is a bipartisan platform that aims to strengthen the relationship between the United States and Peruvian people through frequent exchange of information about topics of common interest, bipartisan events, and the promotion of cultural ties. The caucus works towards enhancing political dialogue and cooperation on shared values and principles. The group also works on issues such as trade, migration, human rights, and environmental protection, emphasizing that it is mutually beneficial to have a cooperative and strong relationship.
"As the first Peruvian-American to serve in Congress, I look forward to continuing the important work that Chairman Meeks and Congressman Stewart have accomplished as chairs of this caucus. I am looking forward to playing a part in continuing to build a meaningful partnership with the Peruvian people and to the open dialogue that we will have to strengthen Peruvian democracy and human rights." said Congressman Robert Garcia.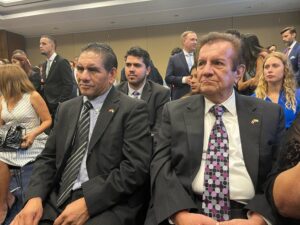 "As the U.S. Representative for our nation's largest Peruvian-American community in South Florida, I am proud to Co-Chair the Congressional Peru Caucus," said Congressman Carlos Gimenez. "I look forward to continuing working with my colleagues to strengthen our incredible ties with the Republic of Peru, one of America's most reliable partners in the Western Hemisphere."
«Peru is committed to continuing strengthening our trusted partnership with the United States", said the Ambassador of Peru to the US, Gustavo Meza-Cuadra. «We believe that by working together with the US Congress, we can promote economic growth, advance democracy and security in the region, and improve the lives of people in both countries.»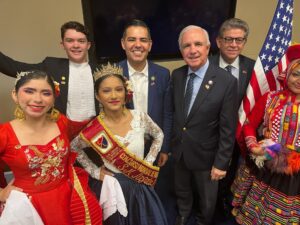 During his time as co-chair, Congressman Stewart has been an effective leader for the U.S.–Peru relationship, also strengthening its ties with Utah. The Representative has been involved in legislative efforts related to Peru, including the implementation of the United States-Peru Free Trade Agreement and issues related to national security in the Western Hemisphere. "With over 40,000 Peruvians living, working, and studying in Utah, they bring diverse experiences and unique talents that enhance the cultural and economic fabric of my home state" Stewart said.
Former Caucus Chair Rep. Meeks has been a tireless advocate for peace, inclusive development, prosperity, and deepening the relationship between the United States and Peru. "Peru is an important partner of the United States with a vibrant diaspora in America. I remain committed to strengthening our ties and mutually beneficial cooperation." Rep. Gregory W. Meeks will remain an active member of the Caucus.
The Congressional Caucus on Peru looks forward to the leadership of Representatives Garcia and Gimenez and their commitment to foster greater integration and collaborate toward the economic, political, and social development of Peru.
All members of the Congressional Caucus on Peru are thankful for the leadership of Rep. Meeks and Stewart through these past years. To welcome the new Caucus co-chairs and members, a reception is being held on September 13th in Washington, D.C. with Members of Congress, the Ambassador of Peru to the United States, and members of the Peruvian-American community.