NATIONAL CHERRY BLOSSOM FESTIVAL TO PREVIEW 2021 FESTIVAL
Festival to unveil 2021 official artwork, provide first look at spring lineup
Washington, D.C.— On Wednesday, November 18, National Cherry Blossom Festival leadership will join D.C. officials and stakeholders as they look forward to spring, previewing the 2021 Festival's innovative lineup of safe, entertaining programming and unveiling the 2021 official artwork.
Rich Bradley, Chairman of the Board, National Cherry Blossom Festival
Muriel Bowser, Mayor, City of the District of Columbia
Diana Mayhew, President, National Cherry Blossom Festival
Jeff Reinbold, Superintendent, National Park Service
Chinyere Hubbard, Vice President, Communications and Marketing, Events DC
Shinsuke Sugiyama, Ambassador to the United States, Japan Embassy
To be announced, Official Artist of the 2021 National Cherry Blossom Festival
The Festival team is working with the Washington, D.C., mayor's office, the National Park Service, and other officials, partners, and stakeholders to plan and provide updates on a variety of safe and engaging 2021 Festival programs. The Festival's mission is to create entertaining programs, educational initiatives, and art and cultural showcases enjoyed by the community each spring.
WHEN: Wednesday, November 18, 2020 from 10:00 a.m. – 11:00 a.m.
WHERE: Pre-registration is required. Please see this link.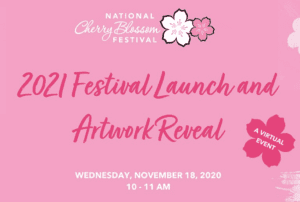 ADDITIONAL INFORMATION:
The National Cherry Blossom Festival is one of the world's greatest celebrations of spring. The 2021 Festival, March 20 – April 11, will include three weeks of events featuring diverse and creative programming promoting traditional and contemporary arts and culture, natural beauty, and community spirit.
nationalcherryblossomfestival.org