SDG GLOBAL FESTIVAL OF ACTION
25-26 MARCH 2021
– A Turning Point for People and Planet –

Innovation, inspiration, and entertainment brings the global community together to drive action towards the SDGs
WHAT: The fifth SDG Global Festival of Action, powered by the UN SDG Action Campaign, finds new ways to inspire, mobilize and connect people and organizations to take action on the SDGs. In light of the pandemic, the Festival will be held in a dynamic virtual space with six different stages, featuring plenary sessions, lightning talks, performances, interactive workshops, exhibits, and a space to connect with leaders, changemakers, activists, private sector and more. To access the virtual space, please register: bit.ly/JoinGlobalFest2021.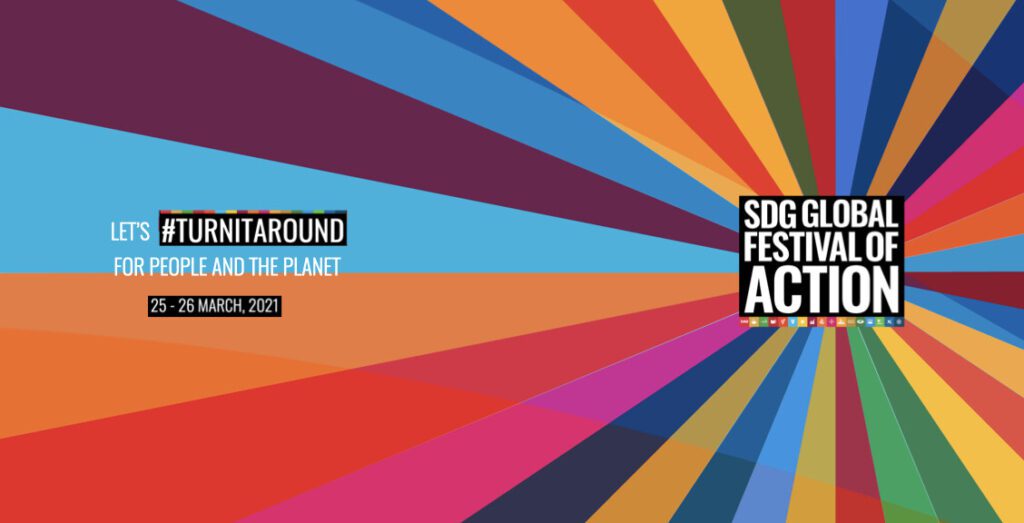 WHY NOW: We must make 2021 a turning point for people and planet! COVID-19 has turned our life upside down, and it urges everyone to work together towards a better recovery, keeping the SDG's as our 'north star' and blueprint for transformative action. Centering around the concept of turning things around, the Festival will provoke debate and drive ideas and actions around four themes that will determine the pace of progress: we must #TurnItAround for climate action, gender equality, poverty and inequalities, and inclusive systems and sustainable finance. The pandemic has shown the resilience of humankind and how global threats require global action and solidarity that will take us past the turning point and on to transformation.
WHEN: On 25 and 26 March, visit live.globalfestivalofaction.org to access the full Festival program on the virtual platform, including workshops, networking spaces, exhibits and more, in English, French and Spanish, as well as International Sign Language. The main stage program will also be streamed live in English only on UN WebTV, and UN YouTube.