There was strong public interest in COVID-19 testing at the new Anne Arundel Medical Center (South Pavilion) site. Photo: Maryland Department of Health
Sites will run daily, including News Year's Day, to provide free PCR testing to Marylanders
Baltimore, MD – The Maryland Department of Health (MDH) opened two additional state-run COVID-19 testing sites to meet increased public demand for testing services. The sites will operate seven days a week, including New Year's Day, until further notice.
The sites are located at University of Maryland Upper Chesapeake Health in Bel Air and at Anne Arundel Medical Center in Annapolis. Hours at each site are 9 a.m. to 3 p.m., daily. Walk-ups only; no pre-scheduled appointments are available for either site at this time. Due to strong interest at both sites, Marylanders should be prepared for longer wait times.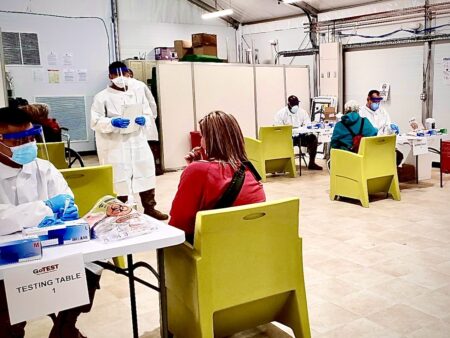 "We are pleased to open these sites to provide Marylanders with additional locations to get tested for COVID-19 as we deal with a surge in cases statewide," said MDH Secretary Dennis R. Schrader. "Testing remains one of the most important tools we have —besides getting vaccinated and boosted if you are eligible— to help Marylanders protect themselves and their loved ones."
These two new sites join three other state-run testing operations in Annapolis, Prince George's County, and Baltimore City. The Maryland National Guard, with support from the state's Vaccine Equity Task Force, is providing staffing and logistical assistance at both sites.
To find a COVID-19 testing site near you, visit COVIDtest.maryland.gov.
For more information about COVID-19 in Maryland visit covidLINK.maryland.gov. For the most recent Maryland COVID-19 data, visit coronavirus.maryland.gov.