Foto: cortesía Democracy Now!
La congresista de Nueva York Alexandria Ocasio-Cortez no asistió el miércoles en la tarde a las celebraciones de la investidura presidencial de Joe Biden. En cambio, se unió a los trabajadores en huelga del mercado de productos agrícolas Hunts Point Produce Market en el distrito del Bronx de la ciudad de Nueva York.
Los trabajadores del mercado han estado en huelga desde el domingo, en reclamo de mejores salarios. Estas fueron las palabras expresadas por Ocasio-Cortez en el piquete que se realizó frente a Hunts Point Market:
Rep. Alexandria Ocasio-Cortez: "Los que están aquí no simplemente están pidiendo más dinero. Están pidiendo un cambio transformador, por sus vidas y por las vidas de todos los trabajadores del sector alimenticio en este país, y por sus hijos, porque actualmente hay muchas cosas que funcionan al revés en nuestra economía".
Instacart despide a 2.000 trabajadores, incluido el grupo que fundó el primer sindicato de la empresa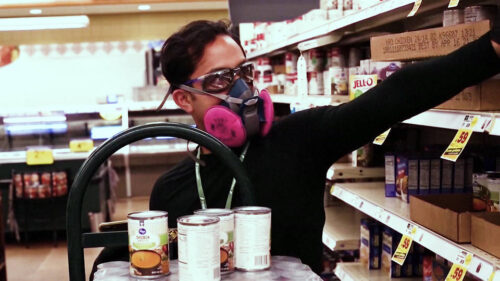 La aplicación estadounidense de entrega de comestibles Instacart está despidiendo a casi 2.000 trabajadores, incluido un grupo de diez empleados del estado de Illinois que creó el primer y único sindicato de trabajadores de Instacart e inspiró a otros en todo el país a organizarse. Estos diez empleados del estado de Illinois estaban en el proceso de negociar su primer contrato sindical. Según se informa, Instacart ofrece a los trabajadores despedidos una indemnización por despido de solo 250 dólares.
El sindicato de la revista The New Yorker se declara en huelga de 24 horas por reclamo salarial
El jueves, sindicalistas de la revista The New Yorker se declararon en huelga de 24 horas después de denunciar "la escandalosa propuesta salarial de la gerencia" en las conversaciones contractuales en curso. Según el sindicato, la propuesta salarial incluye el derecho a reducir, en cualquier momento, los salarios de los miembros del sindicato hasta en un 20 %.
En un comunicado, los empleados sindicalizados escribieron: "Estamos comprometidos con The New Yorker, razón por la cual muchos de nosotros hemos trabajado aquí durante años, incluso décadas, a pesar de los salarios bajos y estancados. Pero, por mucho que amemos nuestro trabajo, ese amor no es suficiente para vivir".