Specialist Cesar Vargas gives a toy to a Latina girl. Photo: La Colmena.
STATEN ISLAND, NY –  On Christmas morning, New Yorkers woke up to a mix of heavy rain and high winds. Despite the inclement weather, Specialists Cesar Vargas and Yesenia Mata of the U.S. Army Reserve were already setting up a six by six tent near the entrance of Our Lady of Mount Carmel, a catholic church on Staten Island's north shore.
The tent was big enough to cover three folding tables, toys as well as protective masks, and sanitizers in light of COVID-19.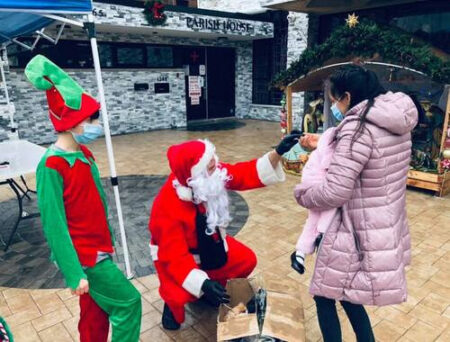 "The set up was intentional as it is meant to keep the line moving and avoid crowding. Our goal is for the children to enjoy Christmas as well as keep everyone safe," said Charlie Destefano dressed in the traditional red and white Saint Nicholas outfit.
The Catholic Church on Staten Island has been the site of a nearly decade old tradition of prominent attorneys Charlie Destefano and Cesar Vargas who team up each Christmas morning to distribute toys to immigrant families and children, many of whom spend their first Christmas in the United States.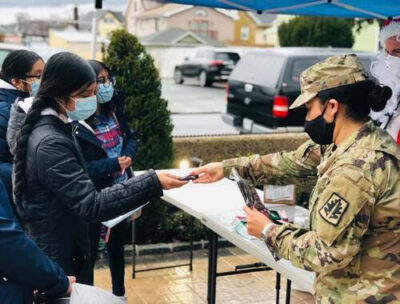 "I remember when I first immigrated to the United States," said Cesar Vargas who made history becoming the first undocumented attorney admitted to the New York State bar. "We had little money so my mother would go to our local church to pick up toys for us and make our Christmas special. This is my way of giving back and remembering that we need to be there for each other as neighbors regardless of our immigration status."
Nearly 10 million Americans have been jobless since the coronavirus pandemic ripped through the U.S. economy in March, triggering a devastating recession and widespread unemployment. Communities of color, particularly immigrants have been disproportionately impacted by the health and economic crisis.
As the holiday season started, many immigrant workers hardly have enough money to buy gifts, cook large festive meals or pay all their bills.
"During the pandemic, immigrant workers were on the front lines of the pandemic performing essential duties. However, they were the first ones to be forgotten when it came to federal emergency relief. During this holiday season and in this Christmas morning, we are here to brighten up their day by giving toys to their kids, fleece caps for the adults, PPE and letting them know that we are thankful for keeping our city, state, and country moving forward. This is what Christmas is about," said Yesenia Mata.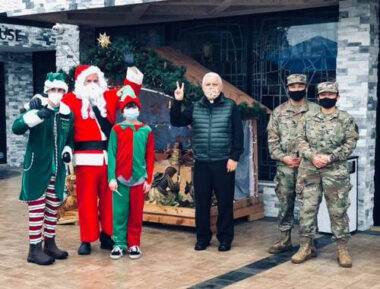 Mata is also the executive director of La Colmena, a local nonprofit that supports immigrant workers and families and was the only organization that remained physically opened during the pandemic. La Colmena has distributed thousands of meals to families facing hard times as well as supported small businesses who received no help from the federal Paycheck Protection Program.